Problem Statement
Barrick Nevada's Cortez Hill Underground Mine sought to increase effective hours and minutes out of each shift with Digital technology, robust planning software, and Short Interval Control. Miners would begin bringing iPads underground with them.
Cortez Hills Underground mine (CHUG) was the safest, highest ounce producing UG mine in Barrick's portfolio. CHUG had (has) solid leadership that was driven to transform and get to the next level of performance even with their excellent record.
Between October 2016 and July 2017 Barrick Gold worked with technology vendor partners to create and implement a custom short interval control system at CHUG. The apps implemented resulted in some production increases. However, several risks went unaddressed:
Project sponsorship change
Familiar software replaced without data validation or preparatory work.
New system with multiple tech/data gaps.
Operator resistance.
Limited focus on DIGITAL ADOPTION.
Goal
Increase production tons through an increase in active shift length. Increase active shift length by modelling the system, focusing on adoption, realizing all the advantages and capturing the gains promised up front.
Value Proposition
Pacers (people who work for PACE) integrated with the workforce and connected with those close to the action. PACE employed a data driven model for software adoption and have a deep understanding of human reaction to change. PACE's unique methodology began with an assessment phase that provided PACE and the client with greater insight into the client's own culture, communications, infrastructure, etc. From there, PACE helps identify what critical functionality within the tech must be adopted to meet the vision and definition of success needing to be defined. PACE brought enhanced methods for addressing critical areas such as:
Risk assessment.
Management, implementation and adoption of change.
Project planning.
Clear roles and responsibilities.
Understanding what the results should be.
Validating data and reporting.
Result
Working with PACE's methodology, project partners returned to CHUG to implement some new processes, reintroducing key messaging, communications and management of change principles, and working directly with the operators. The results have been clear, with a definite increase in the upward trend for active shift length, etc.
The PACE methodology provided the tools for an accelerated path to sustainable results.
In 1.5 years, CHUG had realized a benefit of $6 million per year. Using the PACE methodology, within two months active shift length increased by one hour, with production on track for 400 tons per day, which translates to $60 million per year.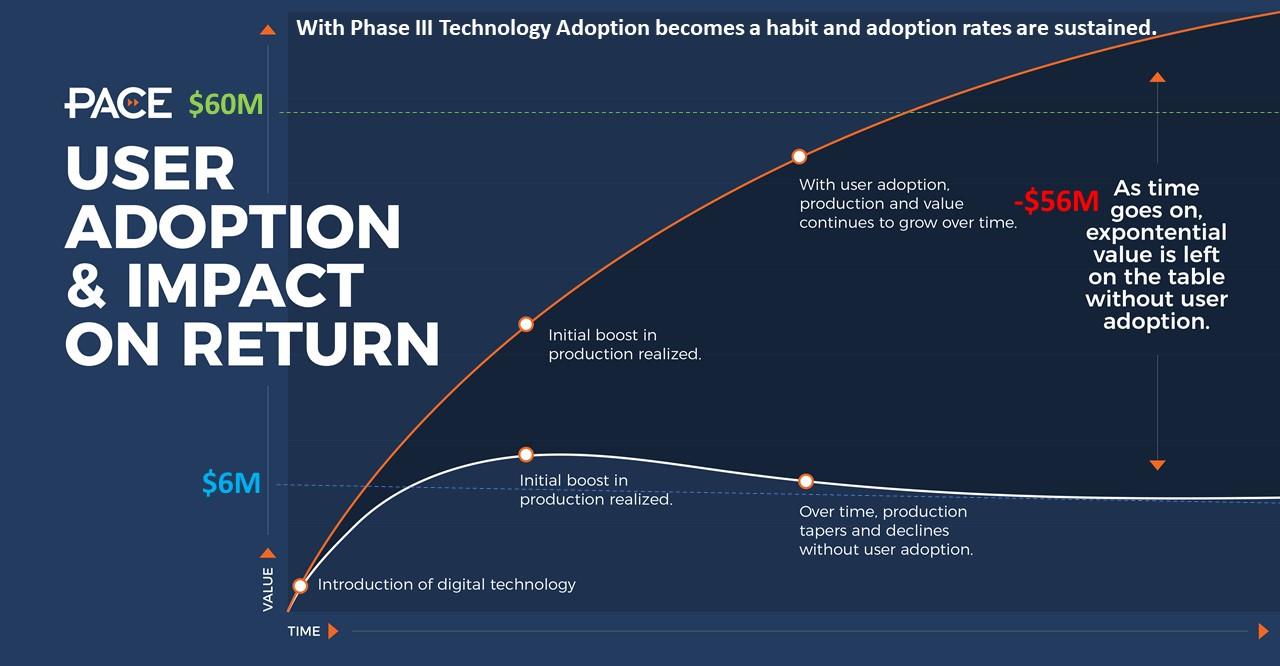 Conclusion
Introduction of digital technologies usually provide an initial boost in production. Without user adoption, as time goes on, exponential value (in this case $54M per year) is left on the table. With user adoption enhanced by applying PACE's unique digital adoption methodology, production and value has proven to grow significantly in a short period of time.