Problem Statement
Barrick Nevada's Gold Strike Underground Mine sought to increase effective hours and minutes out of each shift with Digital technology, robust planning software, and Short Interval Control. Miners would begin bringing mobile devices underground with them for real time reporting.
Goldstrike Underground mine is one of two Barrick Nevada mines in the Elko, NV area. Both are high producing mines with rich deposits. (A third mine in the area, Turquoise Ridge, is a joint venture between Barrick Gold and Newmont, with Barrick mining the ore and Newmont doing the processing.)
Barrick wanted to innovate. Digital technology, robust planning software, and Short Interval Control form part of the future of mining and would be key parts of Barrick Nevada's Digital transformation initiatives. Like Cortez Hills Underground (CHUG) and Turquoise Ridge (TR) before it, Goldstrike would implement Short Interval Control to further align activity at the face with mine planning by providing transparency on the current state mining activity and create a more robust system to improve compliance to plan.
Goal
The initial goal – increase tonnage by increasing active shift length. Initial deliverables:
Finding equipment faster at the start of shift.
Understanding, at faster intervals, the status of each heading.
Getting accurate production and Utilization and Availability data on production facing equipment.
Value Proposition
Pacers (people who work for PACE) integrated with the workforce and connected with those close to the action. PACE employed a data driven model for software adoption and have a deep understanding of human reaction to change. PACE's unique methodology began with an assessment phase that provided PACE and the client with greater insight into the client's own culture, communications, infrastructure, etc. What behaviours were needed for adoption? Who were the influencers? How did the manager work? What was the receptiveness to messages? What communication media would work?
From there, PACE helped identify what critical functionality within the tech needed to be adopted to meet the vision and definition of success.
With lessons learned from the SIC implementations at CHUG and TR, Goldstrike was effectively a greenfield project when PACE and the Barrick Digital Adoption team developed the mantra People, Process, Technology. From a perception standpoint at Goldstrike, a key move was to re-brand SIC from Short Interval Control to Safe Informed Crews. The adoption team focused on the PEOPLE, getting individual metrics, and developing a custom change process that anticipate behaviour and drives adoption.
Result
Tablets with apps 100% adopted by operators.
Through process and stakeholder mapping, a simplified training process. This included user councils, alpha testing, receiving input, and riding along with operators, providing real world training right at the face.
Communication proved to be a critical factor in the success of the Goldstrike SIC implementation. Numerous use cases for the tablets' communications app (Webex Teams) were developed, improving available information about heading status, communication between operators and mechanics or maintenance, etc.
Use of Teams provided a 30 minutes increase in active shift length. (Heading info updates – 20 minutes. Maintenance calls – 10 minutes.)
The SIC app added another 20 minutes. (Lineout time reduced – 15 minutes. Radio chatter and update time reduced – 5 minutes.)
Conclusion
The PACE methodology maximizes implementation and adoption. It identifies which users are not adopting the new system, who needs additional help, and what they need in order to adopt. With user adoption enhanced by applying PACE's unique digital adoption methodology, production and value continues to grow over time.
Blue Beam (map app) reduced re-work due to invalid or out-of-date maps, and reduced Shifter prep time by 15 minutes.
**At CHUG, 60 minutes of active shift length equalled $60 million per year.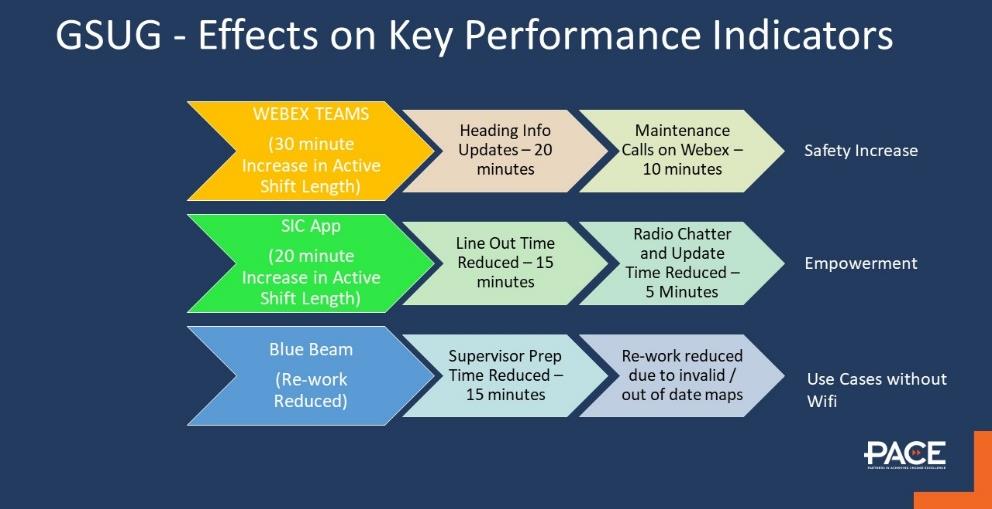 From a frontline delivery perspective, PACE helped coach our digital adoption team towards sustainability in achieving our long-term goal of supporting Short Interval Control initiatives at 1 of Barrick's Nevada operations. With their knowledge of communications, change management, project management and process principles, PACE acted as a partner to leverage, focus, and activate the skills and knowledge the team already had so we could support the underground shifters and crews through this

Ryan Rappleyea, Barrick Nevada Customer Success Manager, Adoption