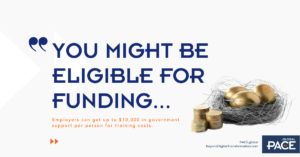 The governments of Canada and Ontario are serious about investing in workers. They've made this grant open to a broad range of employers. Employers can get up to $10,000 in government support per person for training costs. 
Are you: 
An individual private or not-for-profit sector employer?

 
– Or –  
A First Nations or organization acting on behalf of employers (including union training halls, industry associations, training coordinators and 

other

 employer consortium)?

 
– And –   
Licensed to operate in Ontario?

 

Insured through appropriate Workplace Safety and Insurance Board or have private workplace safety insurance?

 

Insured with adequate third-party general liability insurance, as advised by your insurance broker?

 
If you answered yes, then you are eligible for a Canada-Ontario Job Grant! 
You could use this grant money to provide your team (and new hires!) with training for new skills and technologies. Your employees are what make your business successful – they can empower your organization to pivot under the new business environment realities. 
Specifically, a Canada-Ontario Job Grant (COJG) grant would cover the costs of:  
Third-party trainer fees

 

Tuition, student, and examination fees

 

Textbooks and course materials

 

Training-related software

 
We've helped a number of organizations with their grants; from First Nations to construction companies and not-for-profits. We've taken their teams online with Digital Adoption and Change Management. We've trained frontline and mechanical workers, managers and leaders in Lean methodology to help them build back better.  
How does the COJG work? 
Identify a gap in your employees' 

skills.

 
Talk to third-party trainers, find three that meet your needs

 

and identify the one you prefer.

 
Fill out the form 

online

 – 

there's no hard deadline as f

unding decisions are made on an ongoing 

basis.

 
I

t takes

 about 3 weeks

 

for your application to be 

reviewed.

 
Once 

you receive confirmation, 

hire your preferred 

trainer.

 
How much money is available? 
The COJG started in 2014 as a way to support employers in taking a greater role in workforce development. The cost of training is a shared investment between employers and the government. The grant covers training up to $10,000 per trainee but requires; 
Employers with 100 or more employees need to contribute 1/2 of the training costs. 

 

Small employers with less than 100 employees need to contribute 1/6 of training costs.

 
For small employers who are training and hiring unemployed individuals, they may be eligible for 100% funding and up to $15,000 per trainee. This 100% funding eligibility is automatically assessed as part of the application so there is no need to submit an additional form.  
If you are an organization acting on behalf of a consortium of employers, you're acting as an intermediary and are eligible for administrative funding equal to 15% of the government contribution.  For the purposes of the Canada-Ontario Job Grant, an employer consortium is defined as "an organization which has a formal agreement to represent and/or co-ordinate activities benefiting a specific group of two or more employers that will pool their resources to support common training activities and achieve common training objectives and goals." 
You should take advantage of this opportunity! 
"An organization's ability to learn, and translate that learning into action rapidly, is the ultimate competitive advantage." 
Next Steps 
Book a call

 

with us and we'll help you get through 

all 

the steps faster!

 
Assess the gaps in your team's 

skills

 
Are they 

operating as efficiently as possible?

 
Can they 

think their way to faster, less wasteful ways of 

working?

 
Have they adopted a recent 

change

 or do they need help to get up to speed?

 
Is there a new technology they'll need training for?

 
Research possible solution 

providers;

 short list 3 and identify your preferred

 provider