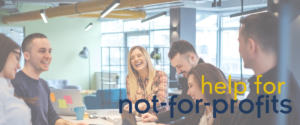 The Not-for-Profit Partnership Program was designed by PACE to help not-for-profits meet their organizational goals without burning through their budget or employees. 


Learn More
We all know that 2020 was unyieldingly tough. Many organizations worry about their futures as they must rethink their strategic plans that are not relevant in a post-pandemic economy. How do they build resiliency when government funding is uncertain? What steps should they be taking now to secure private donations?  
We have heard from so many organizations in the communities we serve that, even though the work they do is crucial, there is a very real risk they may no longer have the resources they need to keep doing it.  
This is where PACE's NFP3 can help.  
NFP3 will assist you to meet the training/strategic planning needs of your organization at a reduced rate and will enable you to allocate those dollars over a convenient monthly payment plan. 
There are three levels to the NFP Plan, and all levels include a membership in the quarterly luncheons hosted by PACE, e-learning webinars, networking sessions and a complimentary DISC profile, assessment, and coaching for the Executive Director.  
Each level of NFP3 includes different value propositions to the organization. These range from opportunities to train your staff and board members on Lean to having a full organization culture assessment completed. The monthly costs vary depending on the level chosen.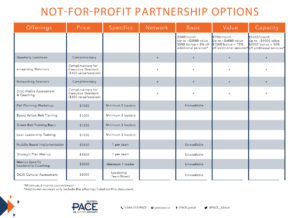 Here is why you should join the PACE NFP3 program 
spreads your organizational training and consulting dollars farther and enables you to spread the cost over a 

6-month

 period

 

access to ongoing training sessions eliminating the need to have a minimum number for training

 
Access to PACE's top consultants who build a relationship with you and help you to move your organization forward

 

PACE can help you to perform a gap analysis of your organization and map it to the services available in the NFP3 before you decide to join

 

You can customize your benefits by accessing additional

 

services at a discounted rate

 
NFP3 Is an affordable program focussed on meeting the needs of small not for profit organizations such as yours. PACE will work with you to plan out your needs for the duration of the program and ensure that you get value for your investment. Times are tough and you are a busy person. Let NFP3 take some of the load off you and help you to ensure the viability of your enterprise for years to come. 

If you are interested in learning more about NFP3 please let us know by filling out the form below. One of PACE's experienced consultants will be in touch to help.